Self-service
esuits² myICT enables our customers to automatize the administration and management of their IT and unified communication services by integrating them into the existing IT infrastructure and business processes.
Significant administrative costs can be saved and productivity of employees increased when using our self-service solution due to automated operative tasks.
All IMAC (Install-Move-Add-Change) processes in esuits² myICT are covered by a simple, intuitive, web-based interface. This enables your employees to order, configure and to sign off from predefined IT services.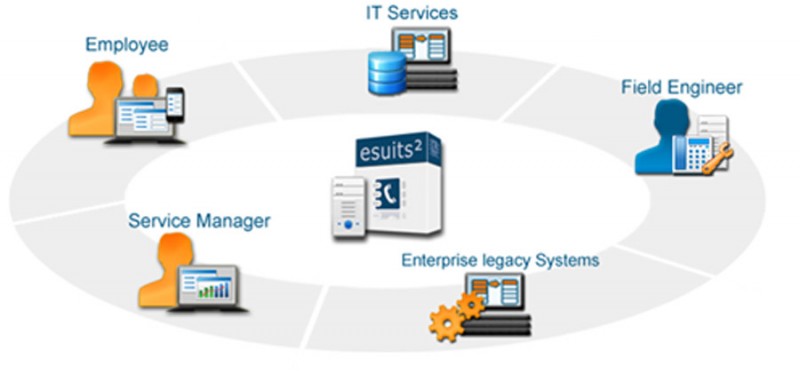 Using esuits2 myICT you obtain a complete solution for all levels of your IT and unified communication operational processes, i.e.:
Convergent (self-service) management solution for ITSM and UC management
Individual service catalogue for IT and UC services
Request and asset management for IT and UC services
Multi-client capability (also intra-company)
Web-based, also ideal for use on mobile devices
Simple process and IT integration thanks to many standardized interfaces
Based on the business processes of our customers, the ordered services go through an automated validation process and, where necessary, through a customized approval workflow.
Automated Provisioning
The employment of esuits² myICT facilitates the automatic implementation of service requests in the respective target system.
The esuits² connector is available for the following IT and UC systems and services:
AVAYA ACM and Modular Messaging
CISCO Unified Communication
MS Lync, MS Active Directory
MDM solution by MobileIron and GOOD for Enterprise
AT&T webconferencing, WebEx Conferencing
NICE Voice Recording
Computer A,B and C suppliers
esuits² myICT enables the possibility of integrating all IT and UC services with the corresponding interface–where needed even in your existing ITSM Tool. Ask us!
Active Directory Integration
By integrating esuits² myICT in the Microsoft Active Directory an automatic management of IT and unified communication services can be realized.
The necessary services for employees newly recorded within the Active Directory are automatically created and activated.
As soon as employees are changed to inactive in the in-house Active Directory or are deleted from it, all of the corresponding services of the employee concerned are automatically deactivated.
Have we aroused your interest? Please feel free to contact us.